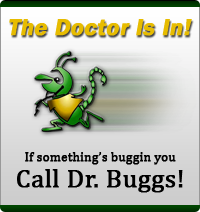 How to control mosquitoes around the house
Name:
Bridgette Sharpton
Question:
I want to rid my outdoor area of mosquitoes with a misting system or do you know of something better. I want to go outside but the biting beast won't let me.
Answer:
Mosquito can be controlled by a combination of methods. Misting systems can be a good option, but treating the ornamentals and yard, around the house, with specific chemicals that target mosquitoes can be another solution
Toggle Content goes here
Bed Bug Prevention
Name:
Holly Wright
Question:
With all the news about bedbugs what can one do to prevent them if they travel?
Answer:
Bedbugs can be difficult pest to prevent and treat. When traveling, you have to be conscious that every hotel, motel or rest stop is a potential harboring site for bedbugs. When staying at a hotel, always unpack your luggage on the rack instead of the floor. The bed should be checked thoroughly prior to sleeping on it. When returning from any trip, it's important to unpack immediately, check luggage, and wash all your clothes in hot water.
Locating ants
Name:
Teresa Garza
Question:
I have seen a few ants at different areas of the house but have not seen the source. Any suggestions?
Answer:
Grab a few crackers, some peanut butter (or lunch meat), and some jelly (or honey). Put a dab of peanut butter or jelly on a cracker (or the corresponding substitute). Put the cracker in an area where ants usually appear. Leave for a few minutes or so and return to observe. Which blue plate special do your ants prefer (sweet or fatty)? Is there a trail of ants leading to the cracker(s)? If the trail is forming… give the ants 15-20 minutes to feed. Some ants should now be heading home with the take out! Follow the ants to their destination (Source), which will be at least, close to the nest. Location of the Source is key to control.