Historic Thomas Center will be fumigated for termites
In this April 17, 2012 file photo, University of Florida civil engineering major Eva Strickland searches for a spot on the lawn of the Thomas Center in Gainesville. The Thomas Center will be tented for termites.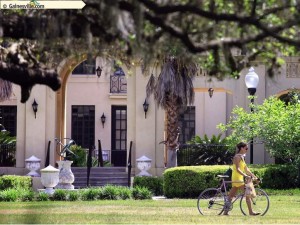 Camp helps give kids green thumbs
Area children learned all about gardening and the ecosystem at a recent Spring Break camp in Fort Lauderdale.
The Museum of Discovery and Science's Green Thumb Week camp for 21 kids ages 6 to 12 featured classroom instruction, expert presentations, hands-on group projects and individual activities in an informal environment.
"Campers take home a better appreciation of the environment and what's around them," said Michael Aguinaga, the museum's programs coordinator and the camp's leader. "We want kids to learn science in a fun manner that doesn't remind them of school."
Different themes — like water, plants and insects of the garden — were explored each day.
Kids filled small plastic bags with water and hung them on a window to study the three stages of the water cycle: evaporation, condensation and precipitation. They also learned about the value of transporting water to places where it doesn't naturally exist and made a model irrigation system out of K'NEX construction toy pieces.
Campers created compost bins by mixing organic pine mix, orange rinds, apples, shredded newspapers and earthworms in plastic storage containers. The enriched soil in composts provides key nutrients for growing plants, Aguinaga said. "I think it will really help because the camp doesn't have to go out and buy soil. We can make our soil, and it will be rich," said Macey Murphy, 8, of Pompano Beach.
Another experiment demonstrated that plants can grow without soil. "All you need is a wet paper towel, seeds and a cup or bag," Aguinaga said.
Seeds placed in a small container without soil actually grew faster than those in soil when tested side-by-side at the camp, he said. Guest speaker Kirphton Fray, an area entomologist, discussed key characteristics and behaviors of insects, including butterflies, bees, termites, mosquitoes and ants. Fray said bees occupy a special place in maintaining the world food supply because of their role in pollination. "If bees would disappear today, the majority of the food we have would be gone," Fray said. "That's how important bees are." Campers were grouped in teams on numerous projects. They also worked individually on writing science journals that chronicled what they learned each day. The kids took the journals home at the end of the week. Volunteer counselors helped with projects and escorted campers.
"I like being with the kids, and the experiments are fun," said Trevor Weinstein, 14, of Pembroke Pines. "We supervise the campers, making sure they're having a good time and that they're safe." During the week, campers had ample time to explore the museum. They saw exhibits, experimented with interactive displays and watched an IMAX film on butterflies.